This article sets out the high level requirements to achieve carbon neutrality under the Protocol.
High level requirements
To achieve and maintain a valid and credible carbon neutral claim against the Protocol, an organisation must:
Measure emissions (Section 2.3)
Develop and implement an emissions reduction plan (Section 2.4)
Offset residual emissions (Section 2.5)
Arrange for verification and validation (Section 2.6)
Report (Section 2.7)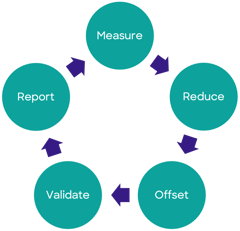 Each of the stages must be completed annually to support the validity and transparency of the current carbon neutral claim.
Initial certified measurement period
For the first year in which Carbon Neutral certification is being sought, the most recently completed 12 month reporting period must be measured.
For further material on obtaining certification, refer to section 3 Certification.
Ongoing measurement time period
To maintain a Carbon Neutral certification under this standard an organisation must complete the measurement of the latest 12 month reporting period within 3 months of the end of that reporting period.
For example. The FY2020 - FY2021 reporting period must be measured prior to 30 September.
Sections 2.3 - 2.7 describe the requirements of the Protocol and provides guidance on how these requirements are met by using the Pathzero platform.